In June of 1980, during his third year of study in theology and law at the University of Zagreb, Mr. Dobroslav Paraga initiated a petition for amnesty for all political prisoners in what was then Yugoslavia. Arrested on November 21st of the same year, he was tortured for sending the petition to the C.S.C.E. in Madrid, Spain. His fate, however, was better than that of Ernest Brajder, who died on November 27, 1980 under mysterious circumstances in the investigative jail in Zagreb.


After months of interrogation, Mr. Paraga was sentenced to three years of imprisonment by the court of Zagreb under the official charges of discrediting Yugoslavia and so-called enemy activity. In June of 1981, the country's Supreme Court elevated the sentence to five years; however, having been adopted by Amnesty International as a prisoner of conscience, Mr. Paraga was released from prison in 1984. Still, during his four years in prison, he was held in solitary confinement, and, after staging several hunger strikes, was often mistreated, including frequent forced feedings. While in prison, he continued to initiate appeals to authorities, describing wretched prison conditions and demanding respect for the human and religious rights of prisoners. Two years after his release, he filed a complaint against the authorities of Yugoslavia for torture and unlawful imprisonment, supporting his claim with the article "Chronicle of My Torture and Suffering in the Prisons of Yugoslavia from November 21, 1980 to November 1984" in the Slovenian magazine Nova Revija and his interwiev in Slovenian weekly Mladina. In response, he endured for a second time political processes against him, under Art.197, Spreading False News, of the Criminal Code of Croatia. During the trial on the Zagreb Court, members of the world's most highly regarded humanitarian organizations like AI, HW, IHF, IGFM where present, as well as the world's press agencies AP, DPA, AFP, Reuters, APA, RFI, and just about the entire diplomatic core from the western countries. Placed on a suspended sentence for three years, the government suffered a great defeat, and because of Mr.Paraga's legal actions, the government had to close down the prison at Goli otok.

Again in April of 1988, during a time of banishment from Croatia to Slovenia, the Yugoslav government started a third political process against Mr. Paraga extending the suspended sentence to four years with a ban on any form of public expression and sentencing him to six months imprisonment. Upon his release from prison, the government rejected his application for a passport to travel to Germany for an audience with the President of the Federal Republic of Germany, but with the aid of Mr.Richard von Weiszacker, who began a hunger strike until the passport was issued, he was eventually able to go.

With passport in hand, Mr.Paraga first traveled to Toronto, Canada, in May of 1989, leading a massive demonstration for the release of Janez Jansa, a Slovenian publicist and later the Minister of Defence of the independent Slovenia. In July of 1989, he was received by the President of Federal Republic of Germany, Richard von Weiszacker, in Bonn. After his testimony in the US Congress, the Senate of the United States passed its resolution no.169. on August 4, 1989, submited by Mr. Riegle together with Mr. Simon, Mr. Dixon, Mr. Helms, Mr. Levin, Mr. Kennedy, and Mr. Chafee supporting the efforts of Dobroslav Paraga to bring about increased respect for human rights in Yugoslavia.
Early the next year, after being voted in as President of the Croatian Party of Rights ( HSP ), he was received by the President of Republic of Austria, Mr. Kurt Waldheim, and by Vice Chancellor Joseph Riegler, then in April of 1990, he addressed American Congressmen and Senators concerning human rights abuses in Yugoslavia. Several months later, in July 1990 he initiated a resolution of the Prague Parliament and the people Eastern Europe and the Soviet Union for a peaceful dissolution of Yugoslavia and the U.S.S.R. This work led to an audience with Czech President Vaclav Havel in Prague in October, 1990.

On the initiative of Mr.Paraga, the leadership of the governing Republican Party of the United States accepted the Declaration of independence of Croatia in February of 1991 in Washington D.C. Four months later, the independence of Croatia was officialy declared ( known as the June Declaration ), based on the signatures of over one million citizens and in July of 1991, together with the Vice President of the Croatian Party of Rights, he met with the Albanian President, Ramiz Alia, the president of the Democratic Party, Salih Berisha and Bulgarian rulling coalition to initiate the idea of the Anti-Greater-Serbian Coalition of People.

Mr. Paraga was arrested under false accusations again by Croatian president Franjo Tudjman in November of 1991 for preparing the overthrow of the government of Croatia. Having begun a hunger strike he was released after a month 's time, with all charges dropped. Two months later, charges were once again brought against him for expressing his criticism against the dictator Tudjman's government during an interview. This did not stop him from meeting with Hans Stercken, President of Foreign Affairs Committee of the German Bundestag, in March of 1992.

November 1993 was the conclusion of the sixth political process against Mr.Paraga, the result of which saw him cleared of all charges of over- throwing the government. Present at the proceedings was Mr.Joseph Morris a lawyer from the United States and Head of the U.S.Department of Foreign Affairs for B 'nai B 'rith.

Mr. Paraga's elections for the Croatian President 1992 years the main opponent of authoritarian President Tudjman. The elections were neither fair nor just, and there is serious evidence that the counterfeit of the ruling HDZ party in favor of Tudjman. Mr. Paraga was elected to the Croatian parliament , but the ruling HDZ party of President Tudjman with repressive measures, arrests and trials of 1993 Mr. Paraga removed as party president and installed its agent provocateur Anto Djapic.

Mr. Paraga was two years under the full prohibition of political and public engagement with his entire party membership and hundreds of thousands of his voters. Mr. Paraga in 1995 was forced to register a new party under the name of HSP 1861 with which for almost 20 years and not at all in public and political work because it is under total administrative and political censorship.

Mr. Paraga's more than 30 associates in Croatia and Bosnia and Herzegovina were killed in political assassinations and bombings, but for these murders to date no one has been punished or condemned.

Mr. Paraga continues his endeavors as human rights activist, working with Amnesty International.

In February and March 1998, Mr. Paraga was a guest by Armed Services Committee, Foreign Relations Committee, National Security Committee and Human Rights Caucus by US Congress.

Mr. Paraga is the author of several books and several thousand published articles in many newspapers and magazines.

Mr. Paraga has a degree in law, is married with Nevenka and is father of two daughters and one son.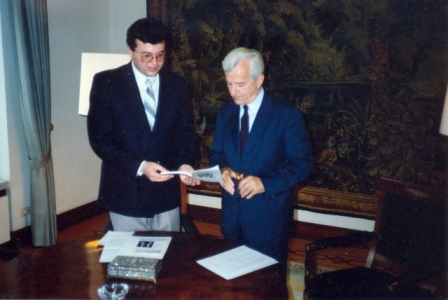 PHOTO: PRESIDENT OF THE FEDERAL REPUBLIC OF GERMANY RICHARD VON WEIZSACKER AND DOBROSLAV PARAGA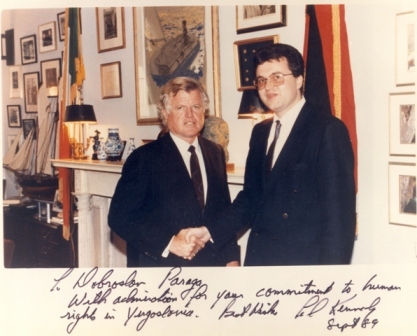 PHOTO: US SENATOR EDWARD M. KENNEDY AND DOBROSLAV PARAGA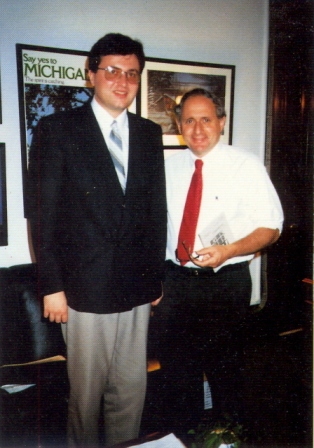 PHOTO: US SENATOR CARL LEVIN, CHAIRMAN OF THE SENATE COMMITTEE ON ARMED SERVICES AND DOBROSLAV PARAGA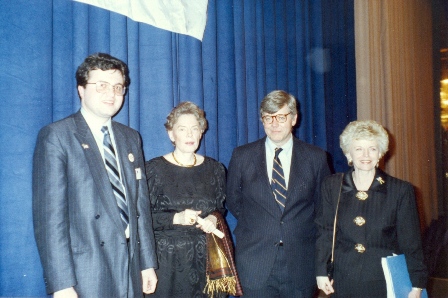 PHOTO: LYNNE CHENEY, SECOND LADY OF UNITED STATES, JEANE KIRKPATRICK, US AMBASSADOR TO THE UN, DAVID KEENE, CHAIRMAN OF AMERICAN CONSERVATIVE UNION AND DOBROSLAV PARAGA

Dobroslav Paraga
President


Address:
Šenoina 13, 10 000 Zagreb,Croatia
Tel:
(385) 1 4839 938

Fax:
(385) 1 4839 939



E-mail: hsp1861@hsp1861.hr